---
PERTE Health, which foresees an investment of 1,469 million euros, combines two investment agendas for 2021-2023: one aimed at the scientific sector and the other at the business sector.
Precision medicine occupies a prominent place in the plan: a treatment that incorporates the patients' genomic data and combines it with clinical, radiological, environmental exposure, lifestyle habits, socioeconomic factors and other data considered relevant to provide more precise and integrated information on the patient. This data-driven information can help in making decisions about an individual's health, but also about public health. This process implies the need to develop new biomarkers, diagnostic and predictive tools, and technological solutions based on data science. To this end, it is essential to boost knowledge, research and companies in the sector.
PERTE for cutting-edge health has four specific objectives:
Position Spain as a leading country in the innovation and development of advanced therapies aimed at curing diseases such as diabetes, neurodegenerative diseases, or ALS, among others.
Promote the implementation of personalized precision medicine in an equitable manner, favoring the development and creation of competitive companies based on the generation of knowledge to promote this field of medicine.
Develop a digital National Health System, with an integrated database that allows for the collection, processing, analysis and exploitation of data from different sources, to improve prevention, diagnosis, treatment, rehabilitation and research.
To strengthen primary healthcare through digital transformation, with the application of advanced technology for all activities involving relations with citizens and the management of resources anywhere in the country and in all areas of care, under conditions of cybersecurity.
The conference is organized by the Institute for Business Competitiveness of Castilla y León (ICE) in collaboration with AIR Institute, ITCL Technology Center and CARTIF Technology Center, in the framework of the "Centr@tec3" Program, piloted by ICE in collaboration with the Technology Centers of Castilla León, which are part of the Network of Entrepreneurship and Innovation of Castilla y León (www.redei.es).
Date: 20/7/2022, 10:30-14:00
Venue: Colegio Fonseca, Sala de Pinturas (Painting Room)
C/ Fonseca 4 (Salamanca)
Register here.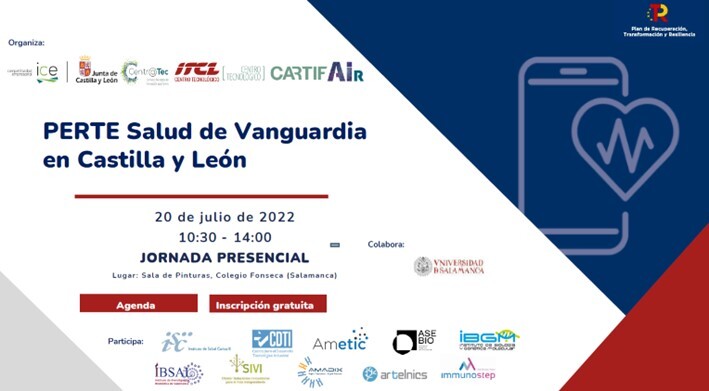 AGENDA
10:30 Reception and coffee (Cloister)
11:00 Inauguration of the conference
11:15 Strategic focus PERTE VANGUARD HEALTH
Carlos III Health Institute (ISCIII), Director Cristóbal Belda.
Centre for the Development of Industrial Technology (CDTI), Managing Director Javier Ponce
Ministry of Health, Castilla y León Regional Government
12:30 Roundtable I: Precision Personalised Medicine in the Spanish Health System and Advanced Therapies and other emerging drugs
Instituto de Salud Carlos III (ISCIII), Director Cristóbal Belda.
Ministry of Health, Castilla y León Regional Government
Instituto de Investigación Biomédica de Salamanca (IBSAL), Scientific Director Rogelio González.
AMADIX, CEO Rocio Arroyo.
Immunostep Biotech, CEO Ricardo Jara.
Institute of Biology and Molecular Genetics (IBGM), Director Carlos Villalobos.
Moderator: Ion Arocena, General Director of the Spanish Association of Biocompanies (ASEBIO).
13:15 Round Table II: Digital Health for data governance and the strengthening of the Spanish Health System and Primary Care within PERTE Health.
AMETIC. President of the Digital Health Commission Miguel Ángel Montero.
SIVI Cluster. Innovative Solutions for Independent Living. President Pablo Gómez.
ARTELNICS, CEO Roberto López.
Technology Centres:


AIR INSTITUTE. President Juan Manuel Corchado.
CARTIF. Pablo Viñas, Director of the Welfare and Health Area.
Moderator: Mr. José Mª Vela, Director of ITCL Technology Centre. CCTT Representation.
14:00 Closing of the Conference. Conclusions.