---
The IoT Innovation Conference on processes and design of products and services is an action framed within the Centr@Tec Programme and organised by the Institute for Business Competitiveness of Castilla y León (ICE) in collaboration with Air Institute.
The activity will focus on the incorporation and development of IoT technologies for SMEs and startups attending the Startup Olé event.
This demonstration day aims to show regional companies and startups the innovations and improvements that they can incorporate in their production processes and in their products or services, to optimise costs and improve their competitive position. During the event, a series of projects will be presented with extensive IoT development, the results of which aim to optimise processes and increase the competitiveness of SMEs.
The event will take place on 5 September in the Presentation Room of the R&D&I Building at the University of Salamanca.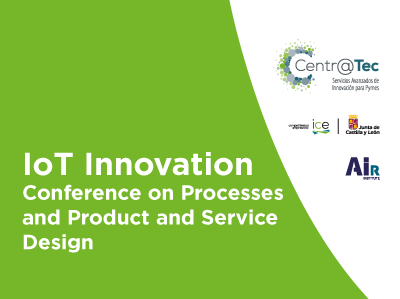 Agenda
10:00 Reception and registration
10:30 Opening session and welcome
10:45 Presentation of the Centr@tec programme
Dr. Juan Manuel Corchado. Air Institute.
11:05 Financing lines of the Institute for Business Competitiveness of Castille and León (ICE).
Dr. José Francisco de Diego. ICE.
11:30 Coffee break
12:00 Presentation of the importance of IoT in the processes of digital transformation.
Dr. Sergio Márquez. Air Institute
12:45 Presentation of projects involving IoT development, for their application in processes and in the design of SME products and services:
Data Logger: Capture, storage and sending of data related to renewable energy generation facilities. It is implemented in self-consumption photovoltaic panels.
Spine Care: Body sensors that measure and record the position of the back to prevent, detect and ultimately help correct problems associated with posture.
CO2 project: Monitors air quality, especially carbon dioxide levels, to determine whether conditions are conducive to the spread of respiratory-borne diseases.
D. Sergio Alonso. Air Institute. With the collaboration of different experts in these projects.
13:30 Questions, advice and consultancy for the development of IoT solutions.
14:00 Closing remarks.
If you are interested in attending, you can register for free at the following link: https://forms.gle/Hu6DrKJZ3ZXfWCFV9 or by sending an email to centratec@air-institute.com.