---
IoT now represents a key digital enabling technology in sectors such as Industry 4.0/5.0, smart cities and smart territories, e-healthcare, e-entertainment, smart homes and buildings, and agriculture.
However, one of the main challenges facing IoT solutions is cybersecurity. The computational capabilities of IoT devices are often reduced (e.g., CPU, RAM) with the aim of minimizing their size and power consumption, which makes it difficult for them to encrypt information using traditional protocols or the ability to run intelligent processes or agents to combat cyber-attacks or protect the privacy of user data.
In fact, one of the main cybersecurity issues in the IoT domain is the identification of the devices that connect to the networks. In this regard, it is necessary to investigate and validate new technologies and techniques aimed at dealing with the different cybersecurity issues that may appear in IoT scenarios.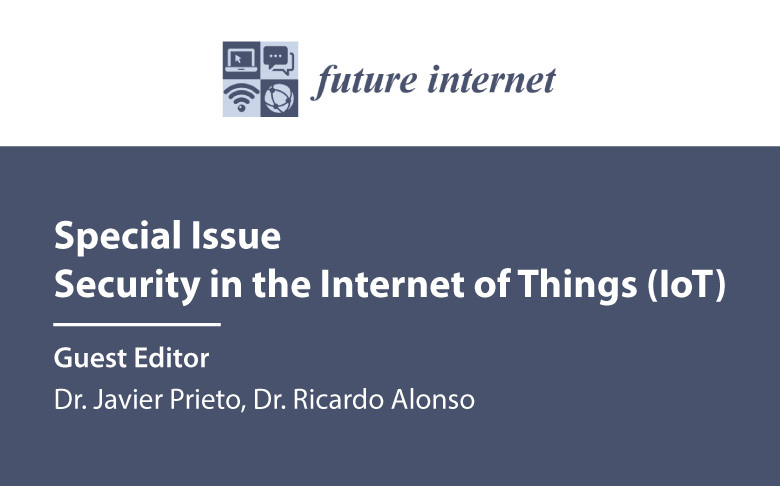 To this end, Ricardo Alonso of AIR Institute and Javier Prieto of the BISITE Research Group have proposed IoT security as the topic of the special issue of Future Internet, a monthly peer-reviewed open access journal published by MDPI. You are invited to submit articles focusing, among others, on the following topics:
Novel cybersecurity architectures, protocols and algorithms in IoT and Edge-IoT scenarios
Distributed and collaborative knowledge and data privacy management
Security information and event management (SIEM) in IoT scenarios
Cyber threat intelligence modelling and identification frameworks in IoT
Security and privacy frameworks for transferring data and models in Edge-IoT scenarios
Trustworthy Artificial Intelligence applied to cybersecurity and data privacy in IoT scenarios
Imitation learning and reinforcement learning for cyberattack detection and mitigation
Multi-agent systems and virtual agent organizations for cybersecurity in IoT scenarios
The deadline for the submission of articles is 15 July 2023, you can learn more about the submission requirements here.