---
The Institute for Business Competitiveness of Castilla y León (ICE) is organizing a conference on "Digital Applications in the Food Industry" as part of the Centr@tec program, in collaboration with AIR Insitute, CARTIF, the Technological Institute of Castilla y León (ITCL), Cidaut and the Miranda del Ebro Technology Center Foundation (CTME). The event will take place on 26 January in Burgos and will be attended by leading companies in the sector and technology centers who will present innovative solutions to boost the digital transformation of the industry.  
The conference is mainly focused on managers and technical managers of SMEs in the food industry, in order to promote the interrelation of companies and technology centers of Castilla y León.  The objective is to facilitate the digital transformation process of small and medium-sized industrial companies through real solutions and practical applications.
The main objective of the Centr@tec program is to support the digital transformation for the application of ICT technologies in the companies of Castilla y León and to promote their internationalization. Therefore, we invite you to participate and learn about interesting technological applications. The seating is limited, so prior registration is required.
Register here: https://itcl.es/jornadas-centratec/aplicaciones-digitales-en-la-industria-alimentaria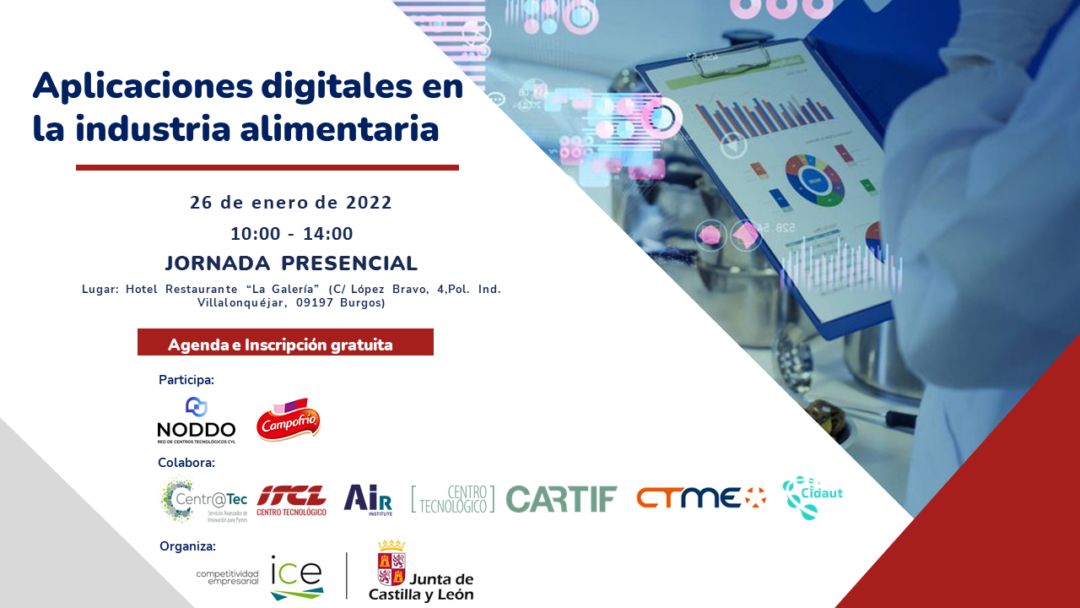 AGENDA
10:00 Presentation and welcome.
Centr@Tec3 Program
Ms. Virginia Santamaría. Territorial Director of ICE in Burgos.
10:15 Lecture: Digitalization tools used in the Burgos factory of Campofrio Food Group.
CAMPOFRIO FOOD GROUP.
Mr. Álvaro Santos. CIO of Campofrio Food Group in Burgos.
10:45 Technological Demonstrators.
Technological demonstrators will be available in "Showroom" format. These demonstrators are focused on digital technologies related to the Internet of Things (IoT) and embedded systems. Attendees will have a "guided tour" of each demonstrator, where they will receive detailed explanations from the representative of each Center and will have their doubts and questions answered.
The order of the demonstrators will be as follows:
1st Technological Demonstrator: MES and CMMS systems in a cookie manufacturing company.
D. Diego Martínez. Market Manager. Technological Institute of Castilla y León
2nd Technological Demonstrator: Terahertz technologies applied to food inspection.
D. Luis Miguel Gonzalez. Director of the Industrial Solutions Area. CARTIF.
3rd Technology Demonstrator: IoT platform for monitoring and traceability in a
company in the agricultural sector.
D. David Ayala. Head of the Software Engineering Area of the Technology Center of Miranda de Ebro (CTME).
4th Technological Demonstrator: IoT platform for monitoring and control of 
thermal energy generators with application in agri-food industries.
Mr. Álvaro García. IT Manager. CIDAUT Foundation.
5th Technology Demonstrator: Smart metering device for silos, to optimize the consumption of food and water in livestock farms.
D. Sergio Alonso. Project Manager Electronics Dept. Air Institute.
NOTE 1: There will be a coffee-networking break between the first and second demonstrator.
13:45 Common discussion. Debate.
Participation of attendees and representatives of the Technology Centers: AIR, CARTIF,
CIDAUT, CTME and ITCL.
14:00 Conference end.
D. Eduardo Andrés Martínez. Managing Director of the Association of the Network of Technological
Technological Centers of Castilla y León (NODDO).
Register here!
Contact us: