---
AIR Institute is a one of the sponsors of the international PAAMS conference  and the simulatenous DCAI, ISAmI, PACBB, MIS4TEL, Blockchain and DECON events. This year it will also give an award to the best demonstration during the event, which will be held in Guimarães (Portugal) from 12 to 14 July 2023.
The 21st International Conference on Practical Applications of Agents and Multi-Agent Systems PAAMS and the International Conference on Distributed Computing and Artificial Intelligence (DCAI), International Symposium on Ambient Intelligence (ISAmI), International Conference on Practical Applications of Computational Biology & Bioinformatics (PACBB), International Conference on Methodologies and Intelligent Systems for Technology Enhanced Learning (MIS4TEL), International Congress on Blockchain and Applications (Blockchain), International Conference on Decision Economics (DECON), will attract, as they do every year, researchers and developers from industry and the academic world.
Right now, PAAMS is classified as B2 by CAPES Qualis CC-Events and B by CORE Ranking. It provides a unique opportunity to bring multi-disciplinary experts, academics and practitioners together to exchange their experience in the development and deployment of Agents and Multi-Agent Systems.
The best demo paper at PAAMS'23 will be awarded 1000€ by AIR Institute and a trip to visit its headquarters. An extended and improved version of the demo paper will be published in the Advances in Distributed Computing and Artificial Intelligence (ADCAIJ) journal.
The special topic of the 2023 edition is "Cognitive Mimetics". We invite you to send contributions related to the theme of the conference.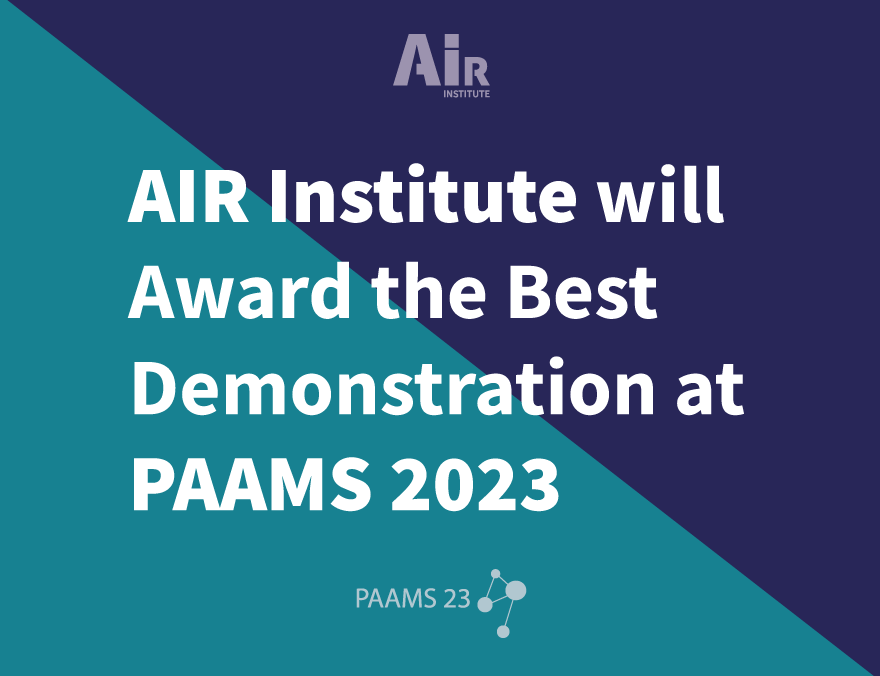 Problems
Agent-based simulation and prediction
Distributed problem solving
Agent cooperation and negotiation
Agent societies and social networks
Real-time multi-agent systems
Human agent interaction, user interfaces
Adaptation, learning and personalization
Reputation, trust, privacy and security
Agent engineering and development tools
Evaluation, ethical and legal issues
Domains
Information recovery and information systems
Knowledge management and data intensive systems
Intelligent control and manufacturing systems
Embodied agents and autonomous systems
Multi-robot systems and real-world robotics
Contributions may be sent until 24 March 2023. Click here for more information.