---
As every year, AIR Institute and the IoT Digital Innovation Hub organise the Community Days in the framework of the DIH World project. This time the theme of the event will be "Digital Twins" and will take place on 18 April 2023 10:00- 13:00 CET.
The European DIH Community Days offer DIH communities the opportunity to learn about DIH activities and services, the benefits of digital transformation and opportunities for collaboration.
We as DIHs open our doors to SMEs, mid-caps, regional stakeholders and other regional and/or cross-border DIHs during the European DIH Community Days.
The IoT Digital Innovation Hub and the innovation-driven organisations involved aim to help companies (especially SMEs) become more competitive by adopting IoT technologies in their business/production processes,  products and services.
This online event focuses on the importance of Digital Twins in different sectors. After a brief introduction to the DIH-WORLD project and the IoT DIH, experts will deliver short sessions on the importance of this technology to IoT, the energy industry or Formula 1, among others.
Target audience
SMEs
Industry experts
Universities and students
Research groups and partners from research projects
Public administrations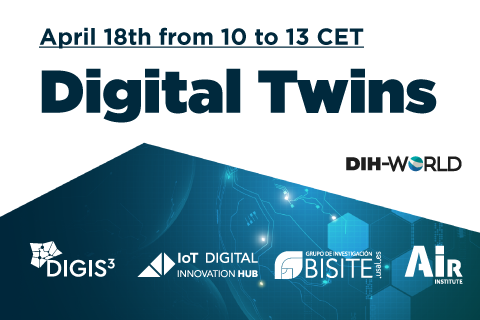 PROGRAM        
10:00-10:20      Marta Plaza      
Opening & Introducing the DIH-World project
10:20-10:40      Javier Parra       
Introducing the IoT DIH to the community
10:40- 11:00     Ricardo S. Alonso           
Applications of Internet of Things and Digital Twins
11:00-11:20      Raúl García        
From BIM to Digital Twins
11:20-11:40      Daniel García    
3D models optimisation
11:40-12:00      Javier Mateos  
Digital Twins impact on car performance in Formula 1
12:00-12:20      Raúl Juan García             
Digital Twins in the energy industry
12:20-13:00      Marta Plaza      
Q&A/ wrap-up
Location
Online event
Contact
Those interested in participating in the next Community Days can register here.