---
Salamanca Tech Day, an event organised by the AIR Institute and the BISITE Research Group, will take place on 3 May in the historic city of Salamanca. The city's Palacio de Congreso will bring together experts from different fields to discuss the potential of technology, innovation and how these two aspects will boost Salamanca. 
The aim of this event is to promote the city of Salamanca and its business ecosystem as a centre of innovation and development in the field of technology. And to achieve this, we have organised a series of round tables in which prominent leaders in the world of technology will discuss topics relevant to the sector such as technology and innovation, applied biomedicine, research, transfer and logistics.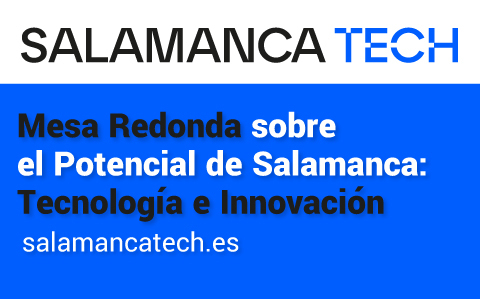 Innovation and technology
One of these roundtables is "Salamanca's Potential: Technology and Innovation Roundtable," and will take place at 10:30 am. This panel will be moderated by Professor Alfonso José López Rivero of the Pontifical University of Salamanca, and will include the participation of prominent leaders in the business and technology world, here we introduce you to the participants at this roundtable:
Manuel Ausaverri Ferrer: Director of Strategy, Innovation and Cabinet at Indra. With more than 20 years of experience in the technology sector, Ausaverri is responsible for the innovation strategy and digital transformation of Indra, one of the leading technology companies in Spain.
Agustín Delgado Martín: Innovation Director of the Iberdrola Group. Delgado leads the innovation and sustainability strategy of Iberdrola, one of the world's leading energy companies. With more than 25 years of experience in the energy sector, Delgado is an expert in the development of clean and renewable technologies.
Jorge Jiménez Molina: Vice President of IBM and General Manager of VIEWNEXT Spain. With extensive experience in the technology sector, Jiménez is responsible for strategy and business development at VIEWNEXT Spain, IBM's technology services subsidiary in Spain. Prior to joining IBM, Mr. Jiménez held several executive positions in renowned technology companies.
Alberto Cabrero Hernández: Global Director Digital Products Unit AXPE - General Manager Axpe Castilla y León. He is currently the General Manager of Axpe Castilla y León and Global Director of the Digital Products Unit at national and international level, leading the development of the unit in the areas of UX/UI, innovation, integration or architecture for the development of digital products.
Alfonso José López Rivero (Moderator): Professor at the Faculty of Computer Science at the Pontifical University of Salamanca. Lopez is a professor at the Faculty of Computer Science at the Pontifical University of Salamanca, and is an expert in the development of technologies and software solutions. In addition to moderating the round table, Lopez will bring his experience of Salamanca's entrepreneurial and technological ecosystem.
These experts will discuss Salamanca's potential as a center of technology and innovation, and how the town can develop its entrepreneurial ecosystem to attract investment and foster innovation.
If you are interested in learning more about technology and innovation in Salamanca, don't miss this exciting opportunity! Join us at Salamanca Tech Day to learn from experts in the sector and participate in an enriching discussion. We look forward to seeing you in Salamanca on 3 May in the Sala Menor of the town's Palacio de Congresos!