---
Welcome to Salamanca Tech Day! The event that will revolutionize the technology and innovation scene in Salamanca will take place on 3 May in Salamanca.
The objective of this event is to promote Salamanca and its entrepreneurial ecosystem as a center of innovation and development in the field of technology. To achieve this, we have organized a series of round tables in which prominent leaders in the world of technology will discuss relevant topics for the sector such as technology and innovation, applied biomedicine, research, transfer and logistics.
On this occasion, we would like to tell you about the round table that will take place at 11:45 on the potential of Salamanca in applied biomedicine.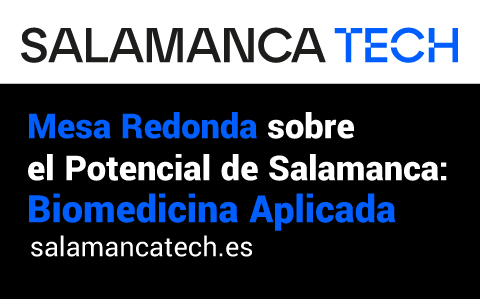 Prominent leaders in the world of biomedicine and health will discuss issues of relevance in the sector, such as research and technology transfer in the field of health. Our speakers are:
Miguel Ángel Ávila Santiago, CEO and co-founder of Neurofix, a company that develops innovative solutions to treat neurological disorders.
Clara Cuervo Vicente, leader in Biomedicine, BD&L and EM Head of Novartis, one of the world's leading pharmaceutical companies.
María Luisa López Vázquez, Executive Director of MSD AH, who leads the strategy and implementation of key projects to improve people's health.
Pedro Luis Sánchez Fernández, Head of the cardiology service of the University Hospital and member of the Institute of Biomedical Research of Salamanca (IBSAL), specialized in the research and treatment of cardiac diseases.
The round table will be moderated by Rosa Cuesta Cófreces, Director General of Economic Policy and Competitiveness of the Junta de Castilla y León. Her experience in the field of economic policy and her leadership in regional development projects will be key to enrich the debate.
Don't miss this unique opportunity to meet leaders in the field of applied biomedicine, and discover Salamanca's potential as a center of innovation and development in this field. We look forward to seeing you at the Salamanca Tech Day on 3 May in the Sala Menor of the Palacio de Congresos!