---
Startup Olé is a tech event that is taking place in Salamanca from 4 to 7 September. Hundreds of startups, companies, entrepreneurs, institutions, media, speakers, and international participants will gather at the tenth anniversary to share advances in innovation and technology and take part in a series of planned activities. 
AIR Institute is present at Startup Olé 2023 and has an information stand at the Palacio de Congresos y Exposiciones of Castilla y León. Numerous projects are being presented to attendees, one of them is Load Crutches, which aims to ease the process of rehabilitation from different ailments.  It consists of a device that works in real-time by measuring, controlling, and correcting the load the patient exerts on each crutch.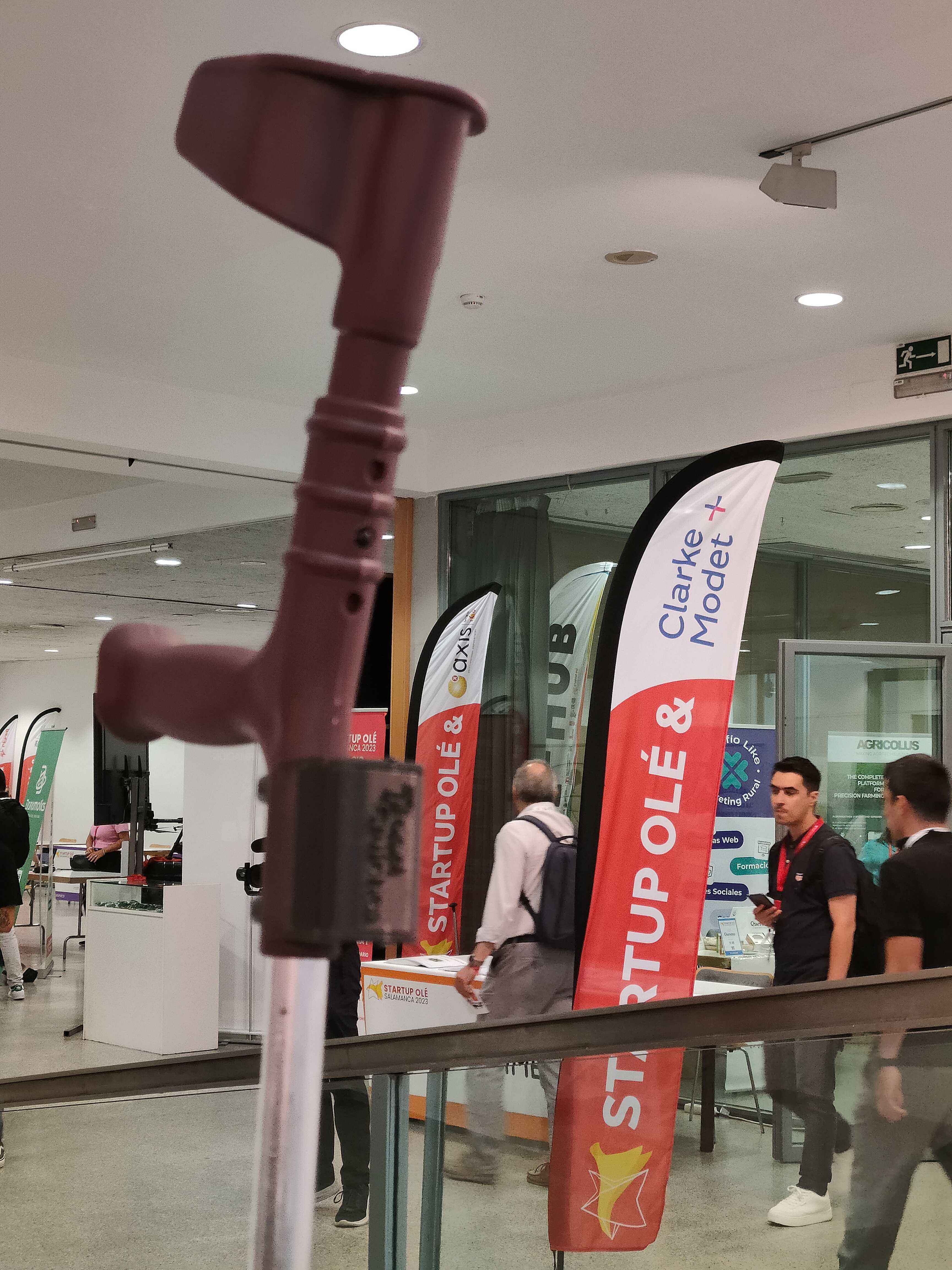 Load Crutches in Startup Olé 2023
The project proposes an intelligent crutch which uses the internet of things to monitor the exerted weight. This helps to correct bad habits, preventing rehabilitation from being unnecessarily prolonged, and thus facilitating a full recovery. During the development of the project, expert physiotherapists have highlighted the importance of this tool in cases where patients are afraid to stand after an operation, which usually leads to a delay in their recovery, because they carry all the weight on the crutch, or on the contrary they exert too much pressure on their legs instead of supporting themselves on the crutches, which can lead to a relapse.
The device provides data through an app, informing the patient of the stage of rehabilitation they are in and how they should distribute their weight. Besides, the patient will receive alerts in case they do not distribute their weight properly. It also enables to create challenges, such as establishing certain number of daily steps. All the data is then transferred to a platform from which a physiotherapist can monitor the patient's progress.
In addition to being lightweight so as not to increase the weight carried by the patient, the system is easy to use and has a low manufacturing cost, allowing it to be marketed at a reduced price to ensure patient accessibility. The app and web platform are currently under development, but those attending Startup Olé already know what Load Crutches is and will be able to access its use in case of need in the future.